Charitable Director
The Mackenzie Room has always sought to effect change within the community in which we are located, as well as throughout the communities we are directly affected by. As a small team with big hearts, the clear path was always to give in the ways we were best suited to, without feeling the need to share the details as the success of our impact was determined by those who directly benefited from it. Our primary objective as a business was to cultivate the voice and lens of The Mackenzie Room - one that reflects our culinary and hospitality based goals.
Recently, as our team has grown, as our roles have evolved, we have had the space and time to create a clearer position around our charitable campaigns. Katie Jameson, one of the core partners and founders, has been working tirelessly to advocate on behalf of several foundations and initiatives that are dear to The Mackenzie Room. As such, we are lucky and grateful to welcome her to the newly created position of Charitable Director.
Katie's work with The Mackenzie Room mirrors the work she dedicates her daily life to as expressed through her website as well as her personal instagram.
We knew that we wanted the name of our restaurant to be a family name, and to reflect the idea that dining with us would be a family affair. We had decided on the name Mackenzie from my husband Andrew's side of the family, and then when we found out our daughter would be born with Down syndrome, we knew we wanted her to share that strong family name as well. Having Kenzie as part of the namesake for the restaurant reminds us everyday to continue to create a welcoming space for all.


Raising awareness and helping to educate others about Down Syndrome is am initiative close to our hearts and homes that we pour a lot of energy into. Click link for more detail.
When we chose this space Oppenheimer wasn't full of tents, and was treated more like a backyard to everyone in the neighbourhood who had nowhere to go. It had support through city works. It was clean and safe. Now, changes to the current government has impacted the aesthetic and safety of the park. It's no longer clean, and it's less safe for the people who live there. The residents themselves remain engaged, grateful to have somewhere to go, and have formed a community where they take care of one another. We continue to choose to be a part of it - though for safety reasons our interactions with it have changed.

Click link for more on what we do and what you can do.
The Mackenzie Room is owned in part by parents who discovered that parenting can be hard! We went though various hardships with all the kids, and in our efforts to raise well-rounded children and to be a part of a community of parents who, like us, face daily challenges, we have made a commitment to pay forward the kindness we received and further the education that we benefitted from.

Click link for more info.
We started our careers in the arts. Opera, theatre, music, and of course the culinary arts lead us to this exact place in our lives. We have masters degrees in Opera, and even though we don't sing professionally or study any longer, that basis of musical education was important to us. Being immersed in the arts developed an appreciation for mastering a skill. Working long and hard at a craft instilled a work ethic in me that I truly don't think I would have had otherwise. The arts taught us integrity and discipline, and our love of the arts have informed our understanding of hospitality.

Click link for more info.
It goes without saying, but having a child makes you a fierce defender of everything to do with your child.

Receiving a diagnosis of Down Syndrome for Kenzie gave us the opportunity to learn what the conversation is around a diagnosis, and begin to understand things about the community that we may never had had the chance to discover. There are many avenues through which we continue to engage and grow and give back.
The DSRF (Down syndrome Resource Foundation) is one such foundation that is very close to our hearts. Our daughter has been receiving care through this organization since she was 10 months old. Recently she began speech therapy, and further down the road she will take part in classes that help her make the transition to school and University.
Mission: The mission of the Down Syndrome Resource Foundation is to empower individuals with Down syndrome to reach their full potential throughout life by pioneering and providing educational programs and services, disseminating information, and changing attitudes.

Vision: Our vision is a Canada that values and empowers people living with Down syndrome, and promotes social and economic inclusion across the lifespan.
We help raise awareness and donate dinner packages and money to the DSRF as well as support and attend the
Run Up for Down Syndrome.
You can support by making a single or recurring donation or following them on Instagram and making a commitment to personal education.
STRONG AS A MOTHER is a Vancouver company created to connect the sisterhood of motherhood and remind mama's how strong they actually are during what is a very challenging period of growth. Through them I created a specific t-shirt that gets sold to fundraise specifically for the DSDN (Down syndrome Diagnosis Network) - this is a network that puts mothers in touch with other mothers giving birth to a child with Down syndrome in the same year. It's also an incredible resource of information for new parents who possibly didn't expect to have a child with special needs.
BASKETS OF LOVE is a company run by a mother who, like me, has a child with Down Syndrome and has created a space where she can provide resources to other parents who may be looking for support and resources. This local mom donates her time to creating and searching out items for these baskets, which she also hand delivers to any new parent in the Vancouver area of a baby with Down syndrome. I've been fortunate to help create a bigger stock pile of items through my photography.
Having a baby should be one of the happiest times in your life. Having your baby diagnosed with Down syndrome can be scary, and often over-shadows the joy of becoming a parent to this new life. This is especially the case when parents don't know the diagnosis before their baby is born. Our goal is to provide comfort, support and resources to new parents by welcoming them to the Down syndrome community in a positive way. - Danielle
Advocacy and Information
The best impact I could hope for around Down syndrome is people wanting and being able to access better information to help shape what you see, think, and understand on the topic, and then to be a part of a change in perception and language around the diagnosis. With that in mind, I've attached a few of my favourite links on a range of topics.
Downtown Eastside Community
When we first found the space that would become the restaurant we were struck by a few things. It was in a neighbourhood that had lots of history and many different people. In a relatively small area there were well known businesses like Hershel and Aritzia, there were cultural buildings that harkened back to the once prominent Japantown, there were government funded drug prevention clinics, there were shelters and churches and soup kitchens, and there were family homes full of young families raising children who played in the Oppenheimer Park. There was a varied diversity to the neighbourhood that was refreshing.

The park specifically was intriguing as it was well used by the whole neighbourhood, and often had groups of people who used it as a safe place to rest - sometimes, but not often, overnight. In the time since we opened we've seen the park undergo very distinct changes, with the park reverting to how it was used in 2014 - before our time - and that corresponded with the election, whereby police and park rangers have been instructed to allow, and enable, people to live in the park - without any provisions of safety or vital amenities like washrooms, running water, or garbage pick-up. This change is hard for us as we do believe that if the government wants people to live there, they have a responsibility to provide a support system to ensure their safety and well-being.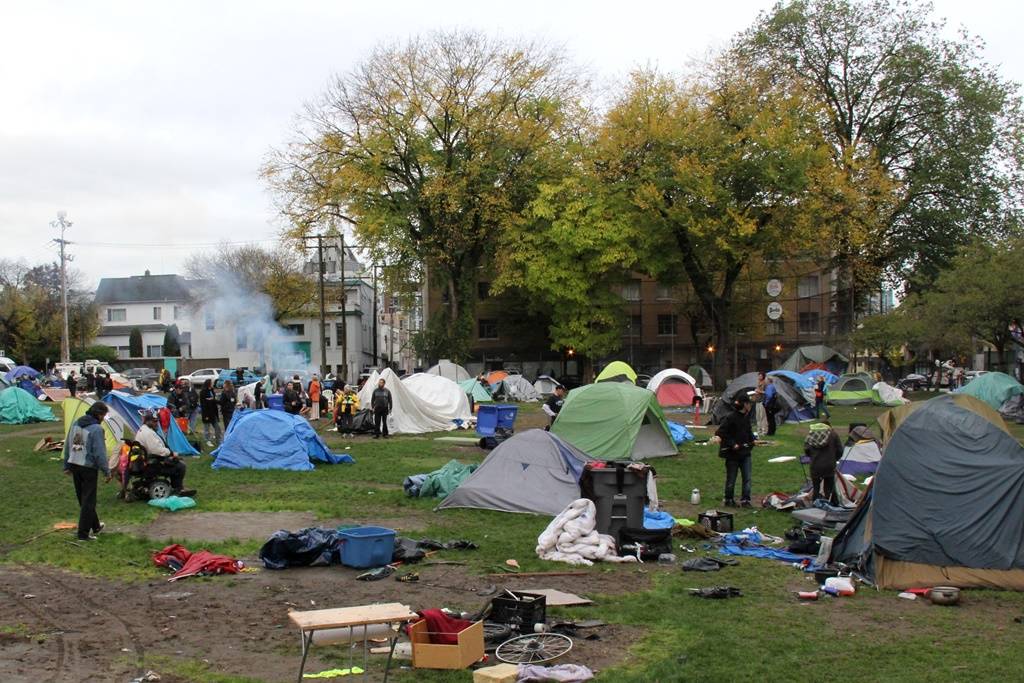 Since the day we opened we have enjoyed a Saturday Sandwich Walk where members of our team would go out into the park and the surrounding area to deliver homemade sandwiches made by Chef and team. Over the 4 years we have been able to provide that every week, sending out roughly 60+ sandwiches to our neighbours. In the time since December, with the park populated by full-time residents in tents and with the frequency of unpredictable situations rising, we have shifted our weekly delivery to a single location, choosing to support the Powell Street Gateway as a means to ensure our own safety and comfort.
We often get guests interested in a variety of ways with what's happening in this area and what we are doing. We often invite them to be interested in what they can do as well. We don't invite guests to buy sandwiches for our walk, as it's something we do because it matters to us to be the ones to do it. Instead, we encourage that if you would like to support the community, we feel that the best thing we can provide is the opportunity to get educated and choose your level of involvement. Below are a few website ranging from Political Advocacy and Community Organizations to Volunteer Opportunities and Soup Kitchens.
Downtown Eastside Women's Center - provides a safe space for women and children in the Downtown Eastside. We provide practical support, basic necessities and hot nutritious meals to over 500 women and children every day. We support women to make positive changes in their lives by connecting them to a continuum of services including outreach, advocacy, wellness, recreation, housing and skills development.
(Donate Money, Donate Time, Donate Gently Used Clothing)
Powell Street Getaway - offers a variety of structured and unstructured programs to encourage people to participate in social life skills development. The goal is to enhance their ability to create healthy outcomes, leading to a better quality of life.
(Donate Money, Donate Food, Donate Time)
The Dugout - offers a "Community Living Room", or a place where people can come have a snack and a coffee off of the street or away from the isolation that many experience living on Vancouver's Downtown Eastside. Daily meals and friendly faces since 1968. (Donate food pickups, Donate Time, Donate Money)
Mission Possible - supporting individuals who are challenged with poverty to navigate a journey to employment. We do this through supporting individuals with training and coaching in our Work Readiness Program, and offer transitional work opportunities in our social enterprises. (Donate Money, Donate Time)
BC Poverty Reduction Coalition is a coalition that includes community and non-profit groups, faith groups, health organizations, First Nations and Aboriginal organizations, businesses, labour organizations, and social policy groups. We have come together around a campaign aimed at seeing the introduction of an accountable, bold and comprehensive poverty reduction plan from the government of British Columbia that would include legislated targets and timelines to significantly reduce poverty and homelessness. We seek to improve the health and well-being of all British Columbians.
The balance of work and life matters a lot to us. We have families and want to spend as much time with them. While we're with them, we also want to make sure we can be the best care givers we can be - which is hard, because, as it turns out, parenting is hard!
The support of the communities of parents around us provide a ton of information and resources, and we are constantly grateful for the support we have received in the past. As such, we have a desire to give back so that those same communities can support other new parents.
Sip and Savour - an event to benefit BC Women's Newborn ICU, a place near and dear to our hearts that provides families with a tremendous amount of support during the earliest and sometimes most difficult parts of life.
Pacific Post Partum Support Society - a center for mental health support, for both parents, to help work through the depression and anxiety that can sometimes arise after the birth of a child.
Our careers in hospitality were forged through the arts. The integrity and discipline it takes to work as an artist, as well as the creativity and joy of discovery have all translated to our ability to approach restaurants, kitchens, and service as something bigger than the sum of its parts. the arts has invited us to try and create transformative experiences through hospitality, and invite diners to think differently about their time out with us. We would like a night spent with us, to feel like a great night out with friends at the theatre! That said, nothing beats live theatre.

So in addition to us striving to create that type of experience, we have also joined the Firehall Arts Centre's upcoming season as one of their community sponsors. Now guests can come dine with us before the show!
One of the best things about the Arts is its ability to reach into neighbourhoods and affect change.
Growing Chefs is a local organization centred around the Culinary arts.
Too many kids don't know where food comes from or have access to healthy, whole food.
We're on a mission to change that.